Specialized Services
Bridges & Structures
Wagman Heavy Civil builds and rehabilitates bridges, highways, cut & cover tunnels, retaining walls, interchanges and other structures.
With over a century of transportation infrastructure experience, Wagman has has earned national recognition for delivering award winning projects throughout the Mid-Atlantic region.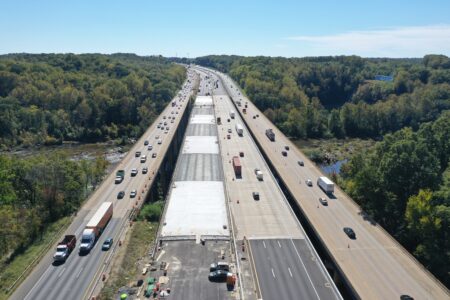 Wagman Heavy Civil, Inc. has received national recognition for its role on major transportation and infrastructure projects in the Eastern United States. These projects have allowed Wagman to foster trust and a positive reputation among Federal and State agencies including the Federal State Highway Administration, the Maryland, Pennsylvania, Virginia and Delaware Departments of Transportation, and more.
Wagman's notable projects include the Pennsylvania Turnpike's Susquehanna River Bridge, the first segmental bridge in Pennsylvania, and Woodrow Wilson Bridge Projects, where Wagman was the largest contractor on site by contract dollar volume after receiving five separate contracts. In addition, Wagman worked in joint ventures on two separate contracts for the Intercounty Connector in Maryland (ICC A and ICC B) and received national exposure for their efforts to minimize environmental impact on this very environmentally sensitive project. In 2012, Wagman completed the Route 52 Causeway Bridge Project in New Jersey and Garden State Parkway over Great Egg Harbor Bay, complex joint venture marine projects.
In 2016, Wagman Heavy Civil completed the largest Latex Modified Concrete contract in the country for the I-95 Deck Rehabilitation project in Baltimore, Md. Just a year later, Wagman completed the Maryland Route 404 Dualization in an unprecedented 18 months, finishing a few days before the Thanksgiving 2017 deadline. In the last 10 years, Wagman has completed numerous projects along major I-95 corridors in several states and continues on the Rappahannock River Crossing Bridge Projects Northbound and Southbound in Fredericksburg, Virginia.