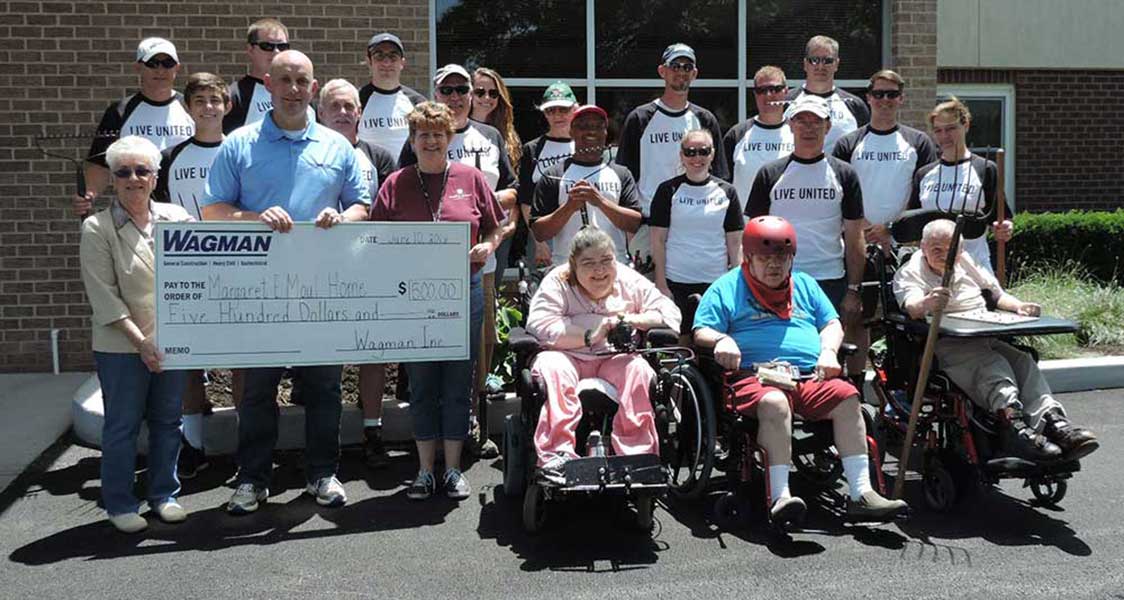 (York, PA ) A team of volunteers from Wagman, Inc., Wagman Heavy Civil, and Wagman Construction participated in the United Way of York County's Day of Action on June 10, 2016. Seventeen employees offered their time to "be part of the team that makes great things happen" by participating in this project. Wagman volunteers spent the morning spreading mulch to create beautiful landscaping for the Margaret E. Moul Home entrance and parking lot. The Margaret E. Moul Home is a long-term care facility for adults with cerebral palsy, spina bifida, multiple sclerosis and other neuromuscular impairments.
In addition to the volunteering, the Mike Glezer, CEO of Wagman, Inc. presented a $500.00 check from the Wagman Corporate Community Fund to the Margaret E. Moul Home.
"We have enjoyed supporting many different non-profit agencies over the years" says Lisa Wagman Glezer, Vice President of Wagman, Inc. She adds, "This team worked hard on the Day of Action and their efforts were appreciated by many. Two residents at the Margaret E. Moul Home are related to employees at Wagman which offered an additional connection this year. We knew it was a great opportunity to present the check in person with a group photo that included some of these relatives."
Additional information about the Day of Action for the United Way of York County can be found at #DayofAction, http://www.unitedway-york.org/day-action-2016, or http://www.unitedway-york.org. Please visit http://www.margaretemoul.org to learn more about the Margaret E. Moul Home.
About Wagman
Wagman, Inc. is a multi-faceted construction firm with major operations in heavy civil construction, full service general contracting, and geotechnical construction services. Founded in 1902, Wagman is a fourth generation, family-owned company with offices in Pennsylvania and Virginia and is headquartered in York, PA.
Wagman has been consistently ranked among the Best Places to Work in PA. For more information about Wagman, please visit www.wagman.com