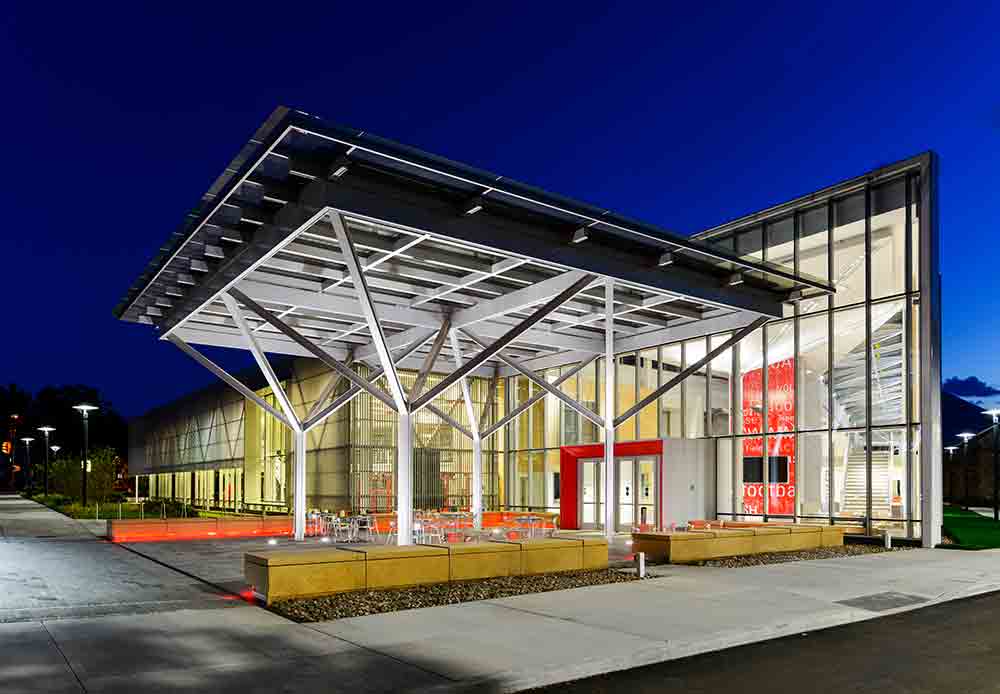 (York, PA ) York County-based Wagman Construction, Inc. was presented with the 2015 Project of the Year and Excellence Award from the Associated Builders and Contractors – Keystone Chapter for their Dickinson College Kline Fitness Center Expansion project.
The Excellence in Construction Awards recognizes outstanding construction projects across the region. Projects are judged on execution of design, craftsmanship, safety, attention to detail, proper installation, evidence of extraordinary effort, owner satisfaction and other considerations. The Project of the Year award are evaluated on community impact, client satisfaction, design features and positive notoriety.
The Kline Fitness Center, located on the Dickinson College campus in Carlisle, PA, is a 29,000-square-foot structure that enhances student life. Designed by CannonDesign, the Kline Fitness Center expansion accommodates five regulation-sized, glass-walled squash courts with large spectator areas, additional gymnasium space complete with state-of-the-art cardio-training machines, weight-lifting equipment, a sizeable atrium with a healthy-options café, an outdoor half-court basketball court and an outdoor stretching patio.
The Kline Fitness Center is one of the many buildings on campus that supports Dickinson's continued commitment to sustainability and green practices. A significant green feature is the use of daylighting; both the lobby and concourse are sky-lit. Natural light maximizes visual comfort for students and visitors and reduces energy consumption. The structure is being submitted for LEED® Gold certification through the United States Green Building Council (USGBC). If approved, it will become Dickinson's fifth campus building to be awarded the rating.
Partnering with Wagman Construction, Inc. on this project were CannonDesign, SGS Architects, Smucker Company, Hershocks, Inc., and Hull's Electric Service, Inc.
Wagman, is a multi-faceted construction firm with major operations in heavy civil, general construction, and geotechnical construction services. Founded in 1902, Wagman is a fourth generation, family-owned company with offices in Pennsylvania and Virginia and is headquartered in York, PA. Wagman has been consistently ranked among the Best Places to Work in PA. As a full service general contractor, Wagman Construction facilitates growth and development in senior living, healthcare, higher education, urban, institutional and industrial markets in central Pennsylvania, Virginia & Maryland. For more information about Wagman, please visit www.wagman.com