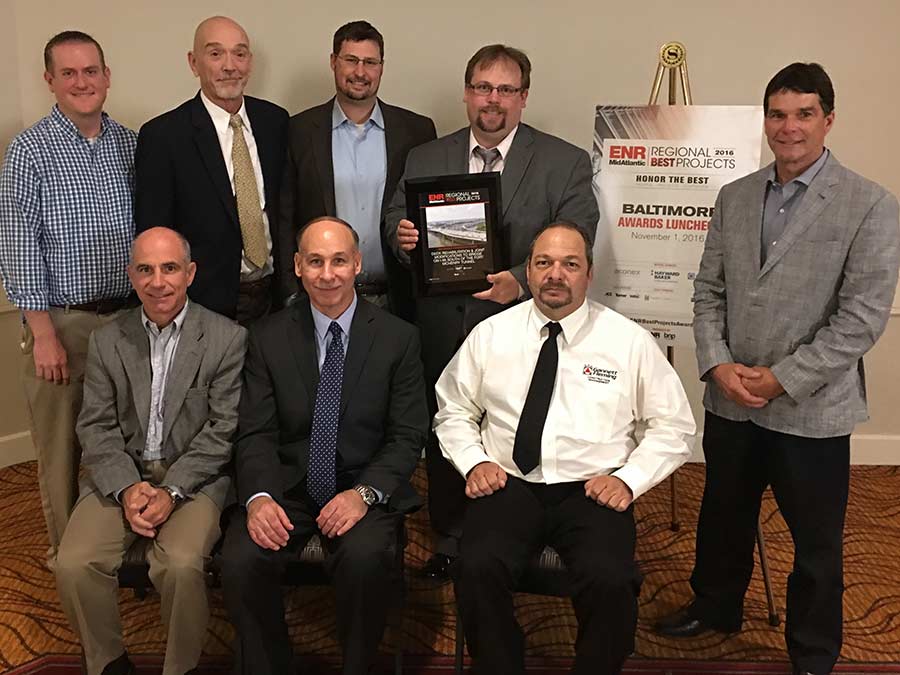 (York, PA ) Wagman Heavy Civil, Inc. celebrated receiving the 2016 ENR Regional Best Projects Award for the I-95 Deck Rehabilitation and Joint Modification project in Baltimore, MD. The project was recognized by Engineering News Record (ENR) as 2016's Best Specialty Contracting Project in the Mid-Atlantic Region. It is the largest Latex Modified Concrete project ever completed in the U.S.
The award was given at the ENR Regional Best Projects Awards Lunch, held in Baltimore, MD on Tuesday, November 1. Dave Leber, Project Manager for the project, accepted the award on behalf of Wagman and spoke about the project at the event.
Greg Andricos, President of Wagman Heavy Civil adds, "We were proud to partner with the MdTA on this milestone project – the largest single Latex Modified Concrete Project ever completed in the U.S. – and complete it safely, on time and within budget. We were thrilled to celebrate with the MdTA, Wallace Montgomery, JMT, and all other team members whose commitment to partnering ensured the successful delivery of this challenging project".
Wagman's contract required the rehabilitation of 236,734 square yards of existing bridge decks along Interstate 95 through Baltimore. Deck rehabilitations using hydro demolition followed by latex modified concrete (LMC) overlay and expansion joint modifications were performed on 28 bridges along I-95 between I-695 and the Fort McHenry Tunnel.
Wagman is a multi-faceted construction firm with major operations in heavy civil, general construction, and geotechnical construction services. Founded in 1902, Wagman is a fourth generation, family-owned company with offices in Pennsylvania and Virginia and is headquartered in York, PA. As a heavy civil contractor, Wagman is a nationally recognized leader within the industry. Wagman's core competencies include: design-build, infrastructure, marine construction, bonded concrete overlays, grooving and grinding, and geotechnical construction services.
For more information about Wagman, please visit www.wagman.com