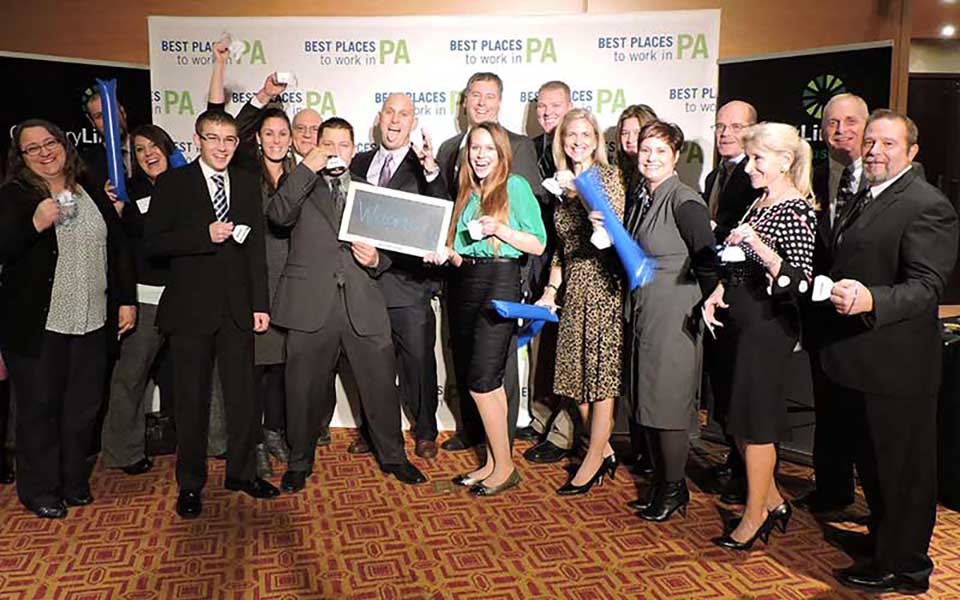 (York, PA ) Wagman, Inc. was recognized among the Top 100 Best Places to Work in PA at an awards banquet on December 3, 2015 at the Lancaster County Convention Center in Lancaster, PA. Wagman ranked #18 among the Best Places to Work in PA, in the large company category.
Mike Glezer, CEO of Wagman comments, "We are thrilled to be consistently ranked among the Best Places to Work in PA and celebrate this achievement with our employees whose leadership, passion and hard work have contributed to our growth and success."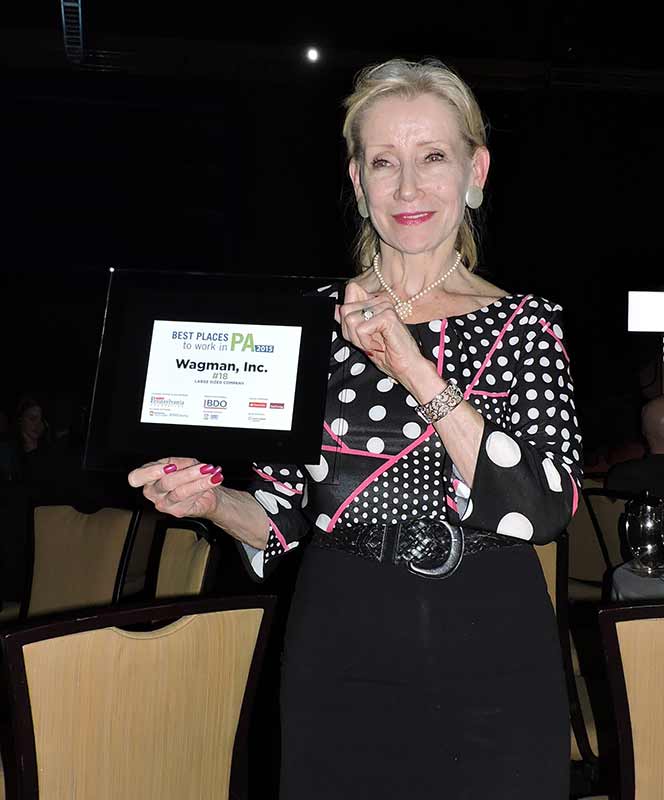 When Wagman was notified they made the list again, they celebrated by closing early on a Friday afternoon and hosting a private happy hour at a local pub. The week of the Best Places Awards event, employees were surprised to receive long sleeve shirts with the "Work Hard Play Hard, Best Places to Work in PA" theme. Wagman invited twenty employees to attend the awards banquet. Sherry Roberts, who has worked at Wagman for 17 years, accepted the award.
The Best Places to Work in PA Program is made up of two groups of companies: medium-sized (25-250 employees) and large sized companies (251 employees or more). Wagman is ranked among the large sized companies.
About Best Places to Work in PA
The awards program, created in 2000, is one of the first statewide programs of its kind in the country. This survey and awards program was designed to identify, recognize and honor the best places to be employed in Pennsylvania, benefiting the state's economy, its workforce and businesses.
Through the research process, a survey is sent to both the employers and employees from hundreds of companies across the commonwealth. The program is a public/private partnership between Team Pennsylvania Foundation, the Pennsylvania Department of Community and Economic Development, the Pennsylvania State Council of the Society for Human Resource Management and the Central Penn Business Journal.
Companies from across the state entered the two part process to determine the 100 Best Places to Work in PA. The first part of the process was evaluating each nominated company's workplace policies, practices, philosophies, systems and demographics. This part of the process was worth approximately 25% of the total evaluation. The second part consisted of an employee survey to measure employee experiences. This process was worth approximately 75% of the total evaluation. The combined scores determined the top companies and the final ranking. Best Companies Group managed the overall registration and survey process.
About Wagman
Wagman, Inc. is a multi-faceted construction firm with major operations in heavy civil construction, full service general contracting, and geotechnical construction services. Founded in 1902, Wagman is a fourth generation, family-owned company with offices in Pennsylvania and Virginia and is headquartered in York, PA. Wagman has been consistently ranked among the Best Places to Work in PA. For more information about Wagman, please visit www.wagman.com