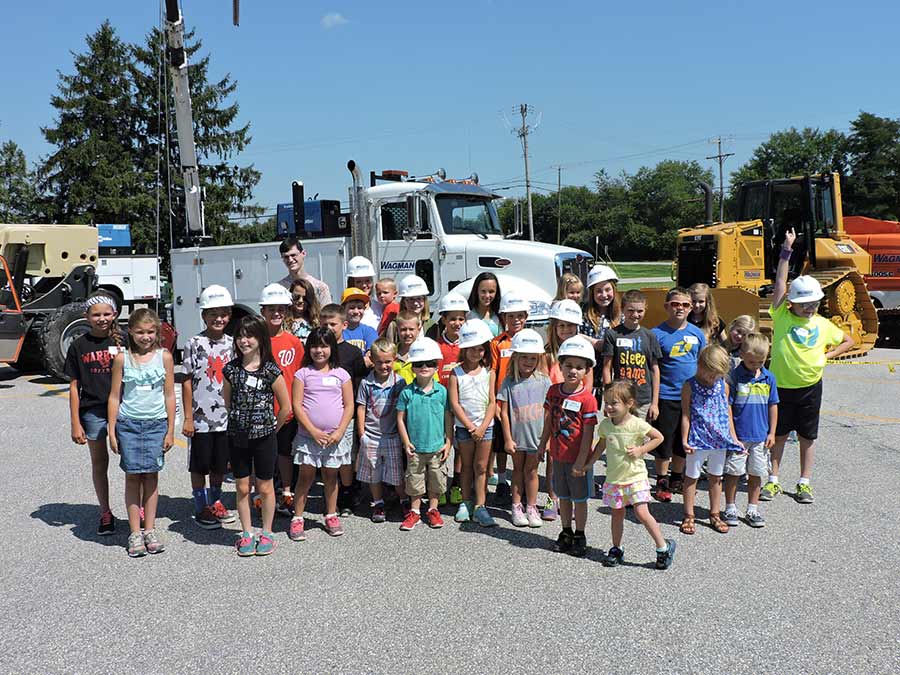 (York, PA ) Wagman hosted their annual summer version of "Take Your Child to Work Day". Employees were invited to bring their children/grandchildren to work. Older children were welcome to shadow employees for the day and a program for children of all ages was planned from 9 am – 1 pm.
The program included a presentation featuring history, notable construction projects and jobs in construction. Children and parents participated in an "estimating contest" followed by a construction activity in which participants "engineered and constructed" a freestanding tower that was at least one meter tall and made from only straws, paper and tape. Participants enjoyed visiting one of Wagman's active construction sites where Wagman is building a new Farmers Market for Leg Up Farm. They also learned about safety gear and safety on jobsites. Other age appropriate construction themed activities were ongoing during the event. An "Equipment Rodeo" provided an opportunity for participants to learn about and climb on construction equipment, and operate a remote controlled crane boom. As an extension of Wagman's commitment to community, Wagman invited those interested to make colorful hanging crafts to give to residents of a local senior living facility. To wrap up the program, the children enjoyed lunch and Rita's Italian Ice with their parents, followed by a tour of Wagman's headquarters.
Wagman hosted 26 parents/grandparents and 40 children, making this the largest "Take Your Child to Work Day" to date.
To learn more about Take Your Daughters & Sons to Work Day, visit http://www.daughtersandsonstowork.org. To read more about the Leg Up Farmers Market visit http://legupfarmersmarket.com/.
About Wagman
Wagman, Inc. is a multi-faceted construction firm with major operations in heavy civil construction, full service general contracting, and geotechnical construction services. Founded in 1902, Wagman is a fourth generation, family-owned company with offices in Pennsylvania and Virginia and is headquartered in York, PA. Wagman has been consistently ranked among the Best Places to Work in PA. For more information about Wagman, please visit www.wagman.com