(York, PA) Wagman Heavy Civil, Inc. was recognized as one of America's outstanding Navy Reserve employers for 2023 during the 2023 Navy Employer Recognition Event (NERE). This year's event was held on Wednesday, June 7 in
San Diego, CA. Greg Andricos, President and COO of Wagman Heavy Civil, Inc., and Jerry Whitlock, Design-Build Manager, Wagman Heavy Civil, Inc. accepted the award on the company's behalf. Jerry is a Commander in the Reserve Navy Civil Engineer Corp and has served for the past 23 years (four years enlisted in the U.S. Marine Corp; two years enlisted in the U.S. Army; one year commissioned in the U.S. Army; and the remainder commissioned in the U.S. Navy). He deployed twice, for a total of three years.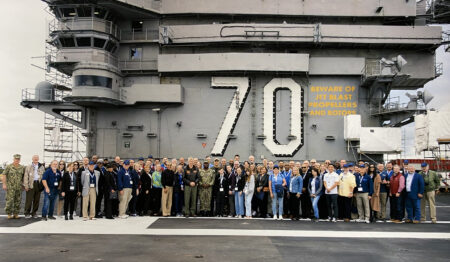 The annual Navy Employer Recognition Event recognizes civilian employers for their outstanding support to Reserve Sailors in their organization and the United States national defense. It is an all-day event that includes tours and demonstrations on Navy ships, aircraft and facilities, followed by an evening reception. Employers are nominated by their reservists for the award.
"Wagman is extremely honored to receive this prestigious award," comments Greg Andricos. He continues, "The infrastructure we build allows our great Nation to be prosperous in times of peace and strong in times of war. Wagman is proud to employ reservists and veterans in our workforce and leadership of our organization. We are proud of our Citizen Sailors, their critical mission, and understand that our support is vital to these team members, allowing them to thrive in both careers."
In addition to the company award, Greg, along with Wagman Heavy Civil's Vice President and General Manager for Virginia Operations, Glen Mays, each received an Employer Support of the Guard and Reserve certificate from the Office of the Secretary of Defense, acknowledging them as patriotic employers, supporting employee participation in America's National Guard and Military Reserve Forces. Greg, Glen, and Jerry are all alumni of the Virginia Military Institute, whose mission is to produce citizen-soldiers, men and women educated for civilian life and also prepared to serve their country in armed forces.
For more information on the NERE, visit the U.S. Navy Reserve website.
Wagman is a multi-faceted construction firm with major operations in heavy civil, general construction, and geotechnical construction services. Founded in 1902, Wagman is a fourth generation, family-owned company with offices in Pennsylvania and Virginia and is headquartered in York, PA. As a heavy civil contractor, Wagman is a nationally recognized leader within the industry. Wagman's core competencies include: design-build, infrastructure, marine construction, modified concrete, grooving and grinding, and geotechnical construction services.
For more information about Wagman, please visit www.wagman.com.