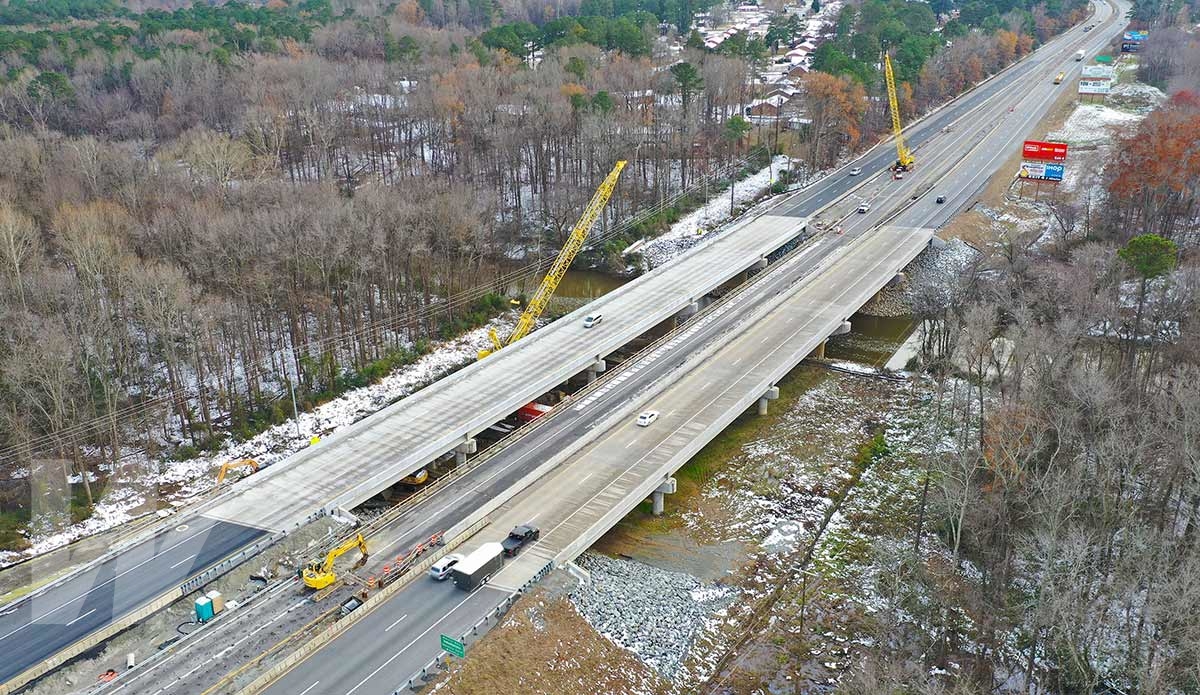 (Dinwiddie, VA) Wagman Heavy Civil, Inc. announces the opening of the northbound bridge on I-95 over the Meherrin River in Emporia, Va. The bridge opened to traffic on Tuesday, December 4, 2018 and is the second Interstate bridge on the project that has opened to traffic.
Greg Andricos, president and COO of Wagman Heavy Civil states, "We are proud of our team for achieving this milestone in spite of a historically wet construction season. Wagman plans to continue the expedited delivery of this project, enhancing quality and safety on I-95."
The first new bridge to open was the southbound bridge in September 2017, built next to the existing southbound bridge, while northbound traffic shifted onto the old southbound bridge. Crews then demolished the existing northbound bridge and built the new one in its place. Demolition on the existing southbound bridge, a final stage in the project, has now begun. Aside from the demolition and replacement of both bridges, the $22M project also includes installation of storm water management facilities.
Construction on the project began in January 2016 and is required to be completed by fall 2019.
Wagman is a multi-faceted construction firm with major operations in heavy civil, general construction, and geotechnical construction services. Founded in 1902, Wagman is a fourth generation, family-owned company with offices in Pennsylvania and Virginia. As a heavy civil contractor, Wagman is a nationally recognized leader within the industry. Wagman's core competencies include: design-build, infrastructure, marine construction, modified concrete, grooving and grinding, and geotechnical construction services.
For more information about Wagman, please visit www.wagman.com