(York, Pa.)  Wagman Heavy Civil, Inc. announces they have been awarded the contract for the Route 234 Brentsville Interchange design-build project, in Prince William County, Va.
This $41 million project, awarded by Prince William County, includes the design and construction of improvements to the existing at-grade intersections at both Dumfries (Route 234) and Brentsville (Route 694) Roads with the Prince William County Parkway (Route 294) and Bypass (Route 234). The goal of the project is to reduce congestion and provide local traffic with an additional route to travel. New features include overpass bridges, improved roadway, storm drain upgrades, eliminates and reduces traffic signals, utility relocation and improvements, and right-of-way acquisition. Rinker Design Associates is lead designer for the project.
Greg Andricos, president and COO of Wagman Heavy Civil states, "Two years ago, Wagman submitted an unsolicited proposal with our concept for a new interchange via the Public-Private Transportation Act (PPTA). We are excited to see this project approved and look forward to partnering with Prince William County to deliver the new grade separated interchange, improving safety and mobility."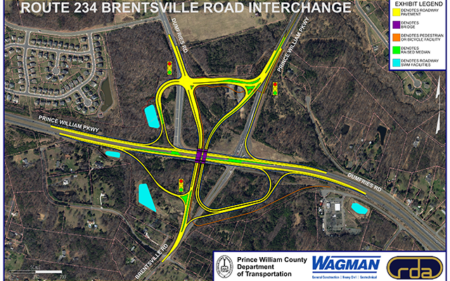 Design and permitting will begin this spring with physical construction anticipated to start within a year.
Wagman is a multi-faceted construction firm with major operations in heavy civil, general construction, and geotechnical construction services.  Founded in 1902, Wagman is a fourth generation, family-owned company with offices in Pennsylvania and Virginia.  As a heavy civil contractor, Wagman is a nationally recognized leader within the industry. Wagman's core competencies include: design-build, infrastructure, marine construction, modified concrete, grooving and grinding, and geotechnical construction services.
For more information about Wagman, please visit www.wagman.com.