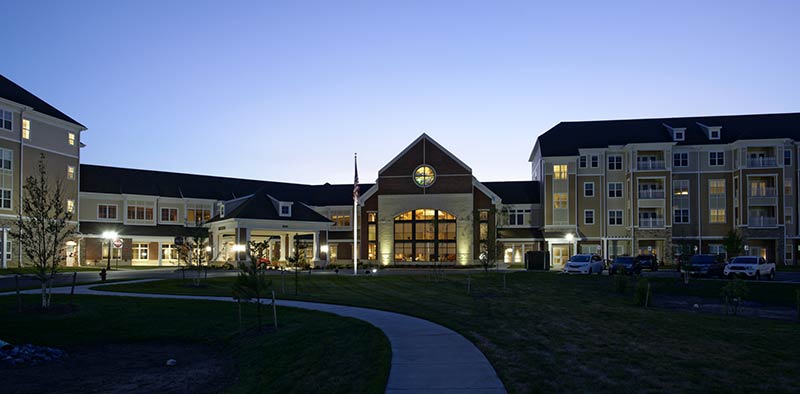 (York, PA ) Wagman Construction has completed construction of The Lodge at Willow Ponds, a new independent living building for active adults located just 10 minutes from historic downtown Frederick, Maryland. The Lodge is a new amenity-filled apartment building on the Willow Ponds campus.
The Lodge at Homewood at Willow Ponds is located across Willow Road from Homewood at Crumland Farms, a full-service care community providing independent, assisted living, and skilled levels of care. The site is owned by Homewood Retirement Centers of the United Church of Christ, Inc. Offering views of the scenic Catoctin Mountains and Willow Pond, and grained wood, two-story fireplace, rich coppery fabrics, and exquisite wrought iron finishings inside create an inviting interior reminiscent to that of a mountain lodge. The campus boasts nearby urban amenities while providing a 100+ acre tranquil setting with walking paths, and a "Beaux Arts" style boulevard running the full length of the site.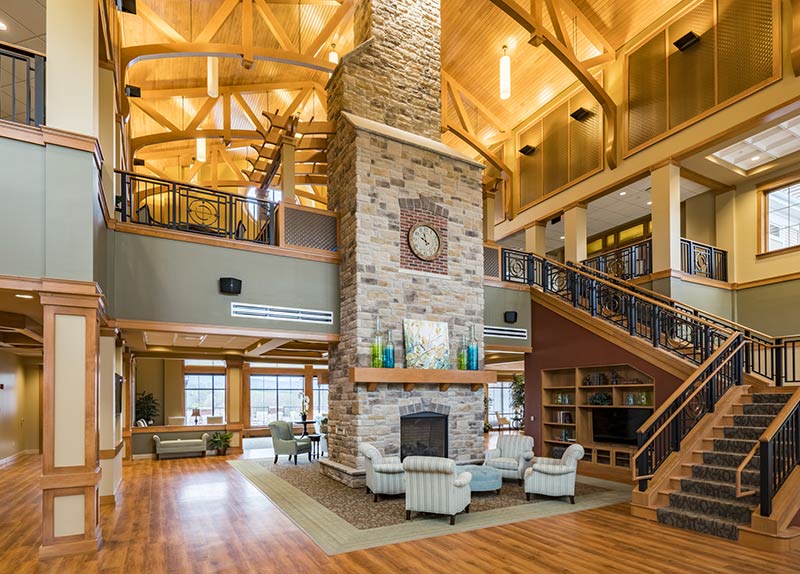 "Over the past two years, Wagman has served as our valued partner in the development of this important project, implementing time-saving construction techniques such as the panelization of the patio home wood framing, and the application of value-engineering alternatives such as custom, locally made finishes vs. the specified long-lead-time high-end finishes in the Lodge," said Homewood President and CEO Ernest Angell.
The $50 million project expands on Homewood at Crumland Farms in response to the growing number of senior residents in Frederick County. The independent living apartment building for active adults provides an integrated community center with a full range of amenities available to the residents of the campus: a wellness center complete with a salt water pool, fitness center, beauty salon, convenience store, art room, great room, meditation room, café bistro, formal dining rooms and a bar. This four-story, 277,000-square-foot building includes a connecting two-story common area with state-of-the-art amenity space and an 89-space lower level parking garage. Accommodations include 55 two bedroom, two bathroom apartments and 30 two bedroom plus den, two bath apartments. Work also included more than 65 patio homes, with plans for a total of 200 additional homes. Noelker and Hull served as lead architect and designer on the project.
Wagman is a multi-faceted construction firm with major operations in heavy civil, general construction, and geotechnical construction services. Founded in 1902, Wagman is a fourth generation, family-owned company with offices in Pennsylvania and Virginia and is headquartered in York, PA. Wagman has been consistently ranked among the Best Places to Work in PA. As a full service general contractor, Wagman Construction facilitates growth and development in senior living, healthcare, higher education, urban, institutional and industrial markets in central Pennsylvania, Virginia & Maryland. For more information about Wagman, please visit www.wagman.com