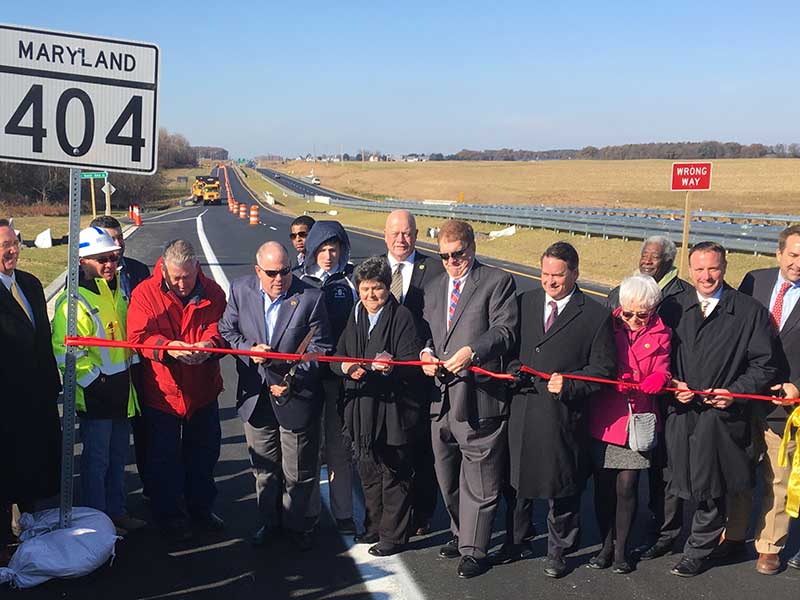 (York, PA ) Wagman Heavy Civil representatives joined Maryland Governor Larry Hogan and Secretary of Transportation, Pete Rahn, for a ribbon cutting ceremony in celebration of MD 404 opening.
The MD 404 project is a $105M design-build project, for the Maryland State Highway Administration and consisted of the design and construction of MD 404 from a two to four lane divided highway from US 50 to east of Holly Road. This high profile project had an unprecedented 18 month delivery schedule for a design-build project of this magnitude in the state of Maryland. The Construction Joint Venture included three civil contractors: Wagman Heavy Civil, Inc. serving as the managing partner, David A. Bramble, Inc. and Allan Myers, Inc.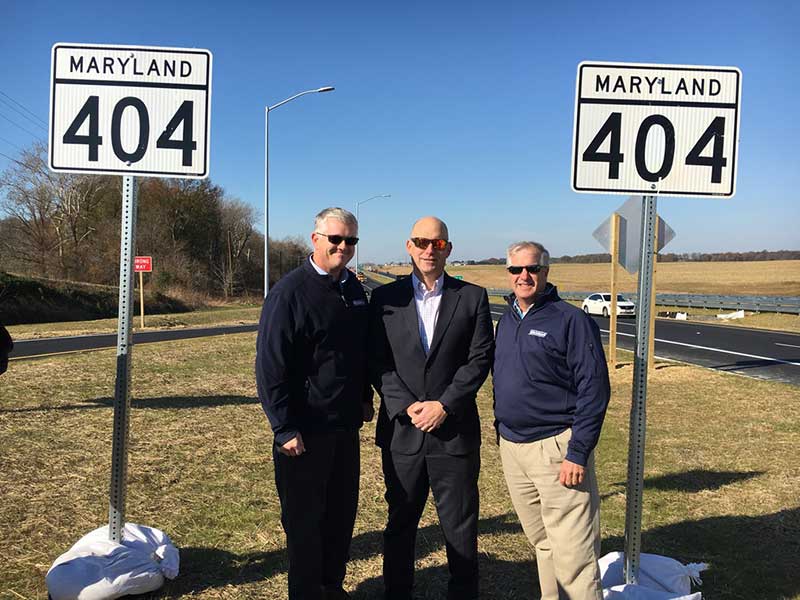 Wagman Celebrates MD 404 Ribbon Cutting – featured left to right from Wagman Heavy Civil, Inc.- Greg Andricos, President, Mike Glezer, CEO and Anthony Bednarik, Design-Build Project Manager of 404.
In order to accelerate the delivery of this project, it was segmented into three parts, and each contractor was paired with a designer and responsible for a given physical segment. Project design partners included Wallace, Montgomery & Associates, Johnson, Mirmiran & Thompson, and RK&K with Century Engineering for Independent Design Quality Assurance.
Greg Andricos, President of Wagman Heavy Civil comments, "This project exemplifies the benefits of design-build to accelerate project delivery. I commend our joint venture team for their extraordinary efforts to coordinate schedules while remaining vigilant to safety."
For more information about the MD 404 project, please visit: http://www.md404project.com/
Wagman is a multi-faceted construction firm with major operations in heavy civil, general construction, and geotechnical construction services. Founded in 1902, Wagman is a fourth generation, family-owned company with offices in Pennsylvania and Virginia. As a heavy civil contractor, Wagman is a nationally recognized leader within the industry. Wagman's core competencies include: design-build, infrastructure, marine construction, modified concrete, grooving and grinding, and geotechnical construction services.
For more information about Wagman, please visit www.wagman.com