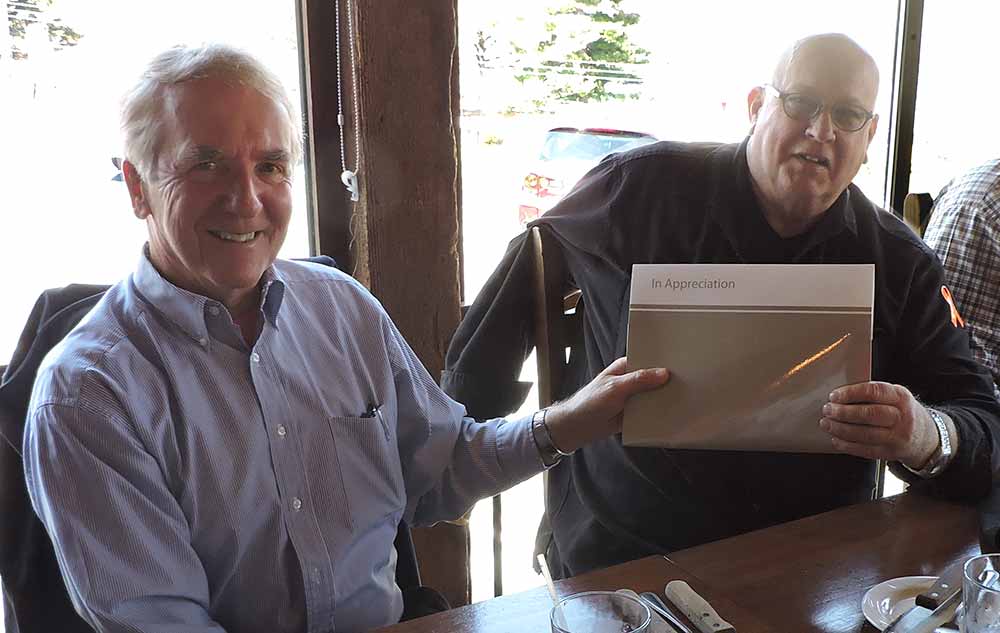 (York, PA ) Wagman, a fourth generation family business has celebrated many milestones – this week Wagman celebrated an Employee milestone. Dwight Burk, who has worked in field operations for Wagman Heavy Civil spanning three generations of Wagman leadership, celebrated 50 years of service with company.
Dwight is Wagman's 4th employee to reach the 50 year milestone and the 2nd one who continues to work beyond their 50 year anniversary. Rich Wagman, Chairman, who celebrated 45 years at Wagman in 2015, presented Dwight with his service award on April 13th. Rich states, "It is the commitment, dedication and hard work from people like Dwight who truly make Wagman successful. Our people are our greatest asset and there is no greater compliment than when employees celebrate milestone anniversaries and eventually finish their career at Wagman. It's an honor for me to present another 50 year service award."
When congratulated on his accomplishment Dwight shared, "It is I who is honored and privileged to be employed by Wagman Heavy Civil and to have spent most of my years with Piling in the Geotechnical group. I thank the Wagman family, for the opportunities I was given to grow and improve my life." In his current role of Foundations Superintendent, he is responsible for Wagman's Piling and Geotechnical field operations in Virginia. He has no immediate plans to retire.
About Wagman
Wagman, Inc. is a multi-faceted construction firm with major operations in heavy civil construction, full service general contracting, and geotechnical construction services. Founded in 1902, Wagman is a fourth generation, family-owned company with offices in Pennsylvania and Virginia and is headquartered in York, PA.
Wagman Heavy Civil is a nationally recognized leader within the industry. Wagman's core competencies include: design-build, infrastructure, marine construction, bonded concrete overlays, grooving and grinding, and geotechnical construction services.
Wagman has been consistently ranked among the Best Places to Work in PA. For more information about Wagman, please visit www.wagman.com