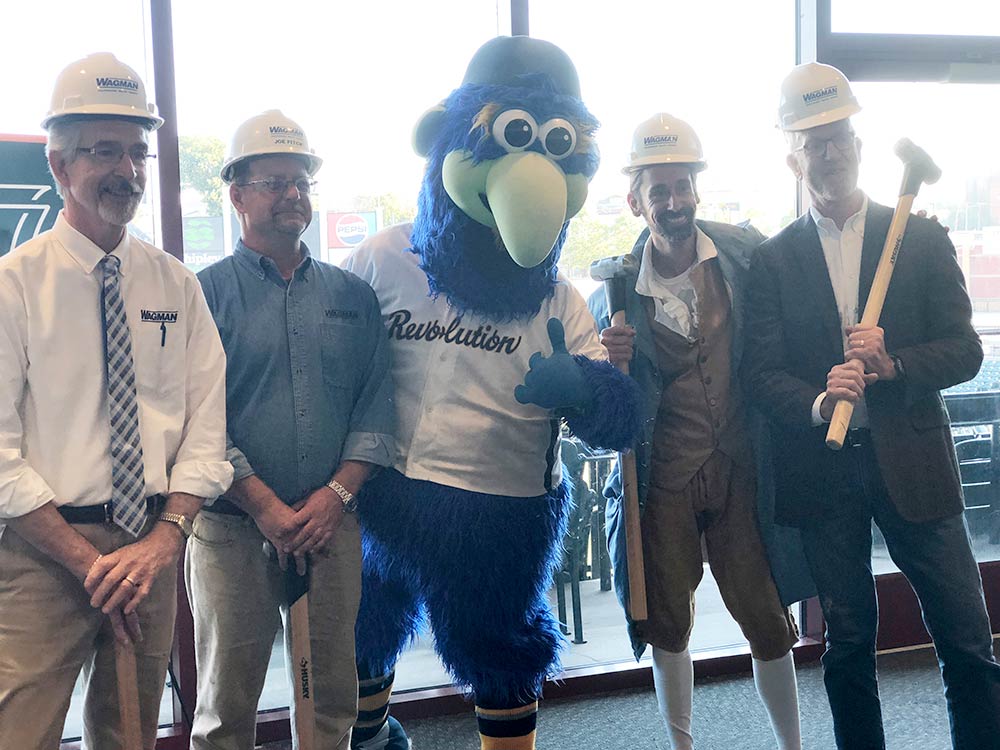 (York, PA) Wagman Construction joined the York Revolution for a groundbreaking ceremony on Wednesday, October 17, 2018, marking the beginning of construction renovations for the highly anticipated 1741 Club. Wagman is serving as the construction manager for the project.
Located at PeoplesBank Park, the current 3,000 square-foot White Rose Hall is being converted into the 1741 Club, which will feature an upscale atmosphere to give businesses and individuals a flexible and all-inclusive game experience. The project is planned to be complete in 2019, just in time for the start of the new season.
York Revolution President Eric Menzer joined members of UPMC Pinnacle, local dignitaries and members of the community, and project team members for the groundbreaking ceremony to celebrate the start of the construction. It was announced that through a three-year agreement, the 1741 Club will be presented by UPMC Pinnacle.
The new venue is designed by Murphy & Dittenhafer Architects. In addition, five skyboxes along the first base side will be receiving renovations for an enhanced baseball and seasonal event experience.
Wagman also completed the preconstruction and construction for the stadium when the ballpark originally opened in 2007.
Wagman is a multi-faceted construction firm with major operations in heavy civil, general construction, and geotechnical construction services. Founded in 1902, Wagman is a fourth generation, family-owned company with offices in Pennsylvania and Virginia and is headquartered in York, Pa. As a full service general contractor, Wagman Construction facilitates growth and development in senior living, healthcare, higher education, urban, institutional and industrial markets in central Pennsylvania, Virginia & Maryland. For more information about Wagman, please visit www.wagman.com