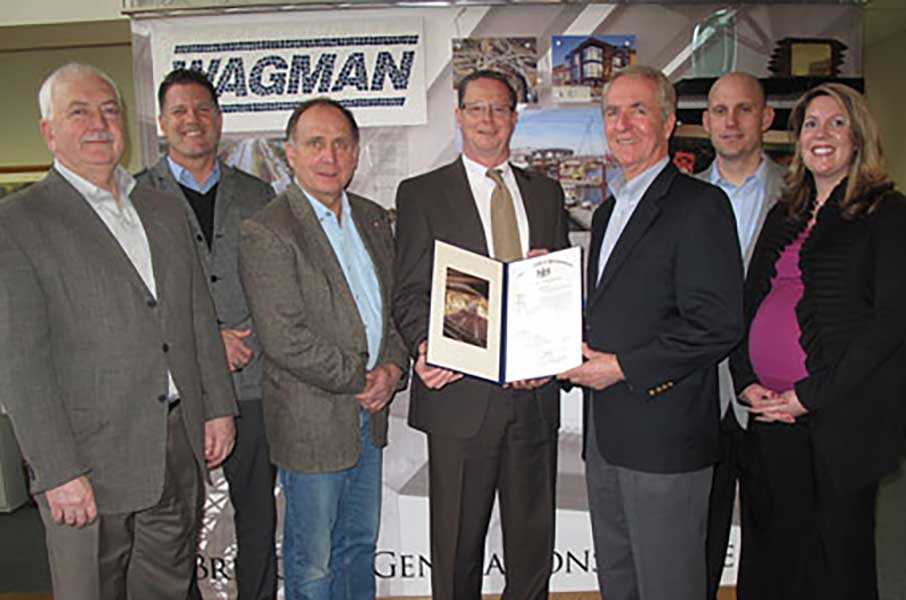 (York, PA) The York County Delegation presented the Wagmans with a Citation in honor of their four generation commitment to the community. This followed the Wagman Family Corporate Leadership being honored with the 2013 Lutheran Social Services' (LSS) Cornerstone Award. Wagman family members representing the 3rd and 4th generations at Wagman Companies, Lisa Wagman Glezer, Mike Glezer, Joe Wagman & Rich Wagman, accepted the award at the LSS Cornerstone Dinner on April 4, 2013 at the Yorktowne Hotel.
The Citation reads in part:
"…Wagman family members are active on local boards and committees to support nonprofit organizations. They also provide leadership and support to companywide programs to engage Wagman employees in contributing to the community with their time, talents and financial support. The family also manages the Wagman Corporate Community Fund, which was established in 2006 to perpetuate corporate giving. With an innovative and progressive attitude, along with the conviction to operate with integrity and vision, Wagman Family Corporate Leadership has earned a tradition for quality service over the past one hundred eleven years.
Now therefore, the House of Representatives of the Commonwealth of Pennsylvania congratulations Wagman Family Corporate Leadership on the great honor which is being bestowed upon it; offers best wishes for continued growth and success;
And directs that a copy of this citation sponsored by Representatives Stanley E. Saylor, Keith Gillespie, Seth M. Grove, Ronald E. Miller, Mike Regan and Will Tallman".
About Wagman
Wagman was founded in 1902 and continues on today as a fourth generation, family-owned general contracting business headquartered in York, PA. G.A. & F.C. Wagman, Inc. is a heavy civil contractor specializing in transportation infrastructure and has grown to become a nationally recognized leader within the industry operating out of offices in Pennsylvania and Virginia. G.A. & F.C. Wagman, Inc.'s core competencies include: design-build, bridges, structures, highways, excavation, drainage, marine construction, modified concrete and geotechnical construction services. Wagman Construction, Inc. is a full service general contractor located in downtown York, PA, serving senior care, office, urban, institutional, medical and industrial markets in central Pennsylvania, Virginia & Maryland.
For more information about Wagman, please visit www.wagman.com.