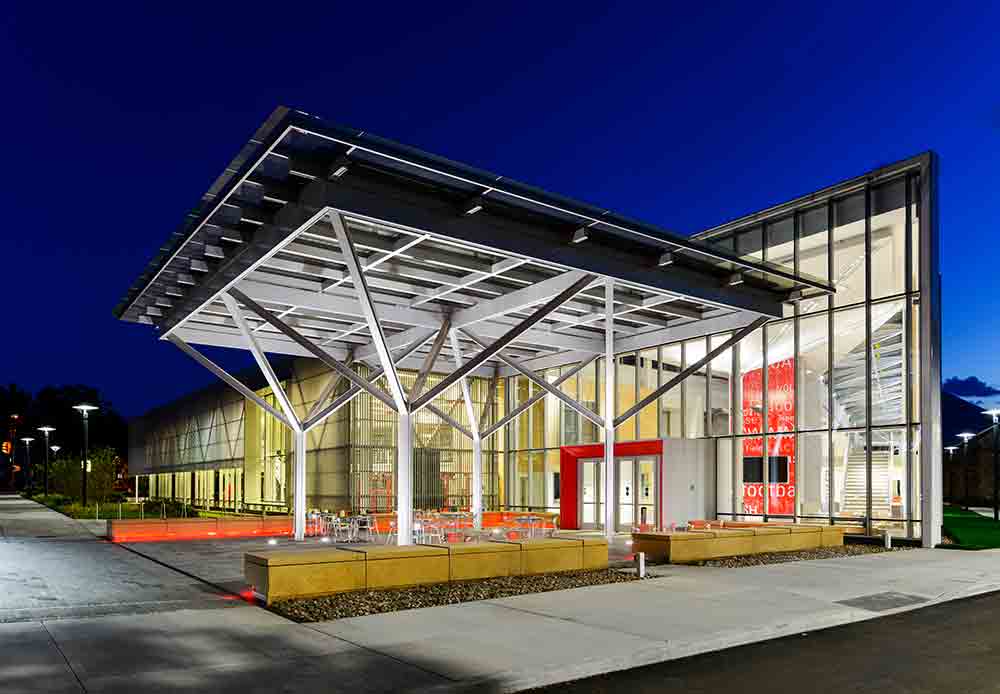 (York, PA) York County-based Wagman Construction, Inc. recently completed two athletic facility projects at Dickinson College in Carlisle, Pa.: the expansion of the Kline Fitness Center and renovations to the Biddle Field Complex.
The Kline Fitness Center expansion is a prominent 29,000-square-foot structure that enhances student life. It is located on the corner of Cherry and High streets. Designed by CannonDesign, the Kline Center expansion accommodates five regulation-sized, glass-walled squash courts with large spectator areas, additional gymnasium space complete with state-of-the-art cardio-training machines, weight-lifting equipment, a sizeable atrium with a healthy-options café, an outdoor half-court basketball court and an outdoor stretching patio.
The squash courts enable Dickinson to launch its men's and women's varsity, and intramural squash teams. In addition, the inclusion of indoor and outdoor gathering spaces help promote the center as a space for both students and student-athletes to congregate and study in a collaborative environment.
"The Wagman team was a great partner in the completion of the Kline squash courts and fitness center," said Frank Laquitara, Dickinson's director of project management. "Working as an integral part from the design phase through completion, their expertise and professionalism resulted in a highly successful project that the entire college community will benefit from for years to come."
The Kline Fitness Center is one of many buildings on campus that supports Dickinson's continued commitment to sustainability and green practices. A significant feature is the use of daylighting; both the lobby and concourse are sky-lit. Natural light maximizes visual comfort for students and visitors and reduces energy consumption. The structure is being submitted for LEED® Gold certification through the United States Green Building Council (USGBC). If approved, it will become Dickinson's fifth campus building to be awarded the rating.
Additionally, Wagman has completed renovations to the Biddle Field Complex which included the installation of new aluminum bleachers and new brick façade front, as well as a ADA-compliant restrooms and entrance ramps.
Wagman Construction, Inc. is a full service general contractor located in downtown York, PA, serving senior living, healthcare, higher education, adaptive reuse, corporate office, institutional, and industrial markets in central Pennsylvania, Maryland & Virginia. For more information about Wagman, please visit their website at www.wagman.com.