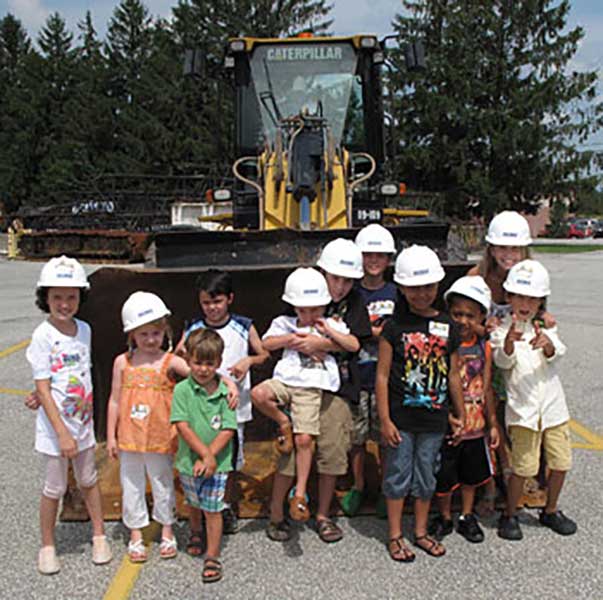 (York, PA) The Wagman Companies (G.A. & F.C. Wagman, Inc. & Wagman Construction, Inc.) hosted a summer version of "Take Your Child to Work Day" on July 30, 2010. Wagman coordinated a day in the summer while children are out of school and planned age appropriate activities. Children 8 and over were welcome to accompany their parents for the workday. Younger children joined the older children for a program from 11 am to 1 pm at G.A. & F.C. Wagman, Inc.'s office at 3290 North Susquehanna Trail.
The program began with a tour of the office and equipment. An equipment operator provided an overview of four large pieces of construction equipment on display. The children, with their hardhats on, were allowed to sit in and operate the equipment in the parking lot. The kids then enjoyed lunch and a brief presentation about Wagman's company history and notable projects. Additional construction-themed activities and crafts were coordinated. Eighteen children attended the event.
According to Lisa Wagman Glezer, Marketing & Public Relations Manager, "Many schools in the region do not honor 'Take Your Child to Work Day', which occurs each April, as an excused absence from school. We wanted to provide an opportunity for our employees to bring their children or grandchildren to work, and have the children learn more about the organization and their parent's role". To learn more about Take Your Child to Work Day, visit http://www.daughtersandsonstowork.org
Wagman, founded in 1902, is a fourth generation, private family-owned general contracting business headquartered in York, PA. G.A. & F.C. Wagman, Inc. is a heavy civil contractor specializing in transportation infrastructure. Wagman's services include: design-build, bridges, structures, highways, excavation, drainage, modified concrete and foundations. Wagman Construction, Inc. is a full service general contractor located in downtown York, PA, serving senior care, office, urban, institutional, medical and industrial markets in central Pennsylvania & Maryland.