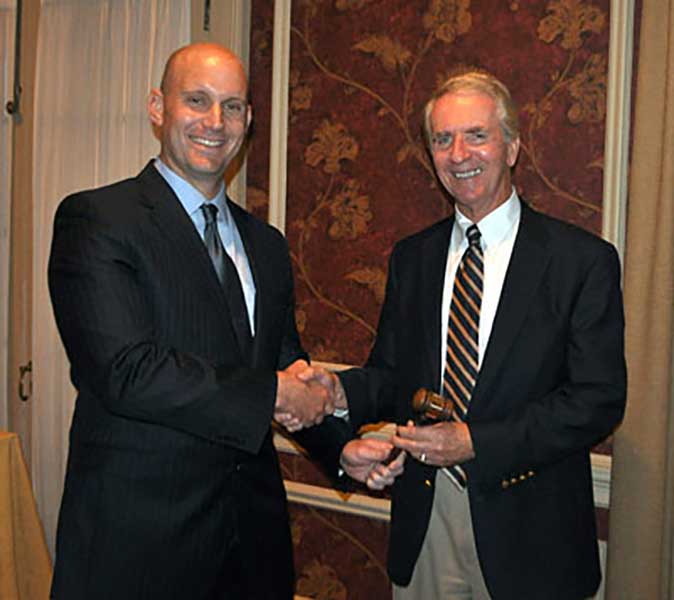 (York, PA) On July 10, 2012, Wagman Companies, Inc.'s Board of Directors elected Michael B. Glezer CEO of G.A. & F.C. Wagman, Inc. and President & CEO of Wagman Companies, Inc.
Richard E. Wagman has been preparing for this succession for many years. Rich was named President in 1977 and most recently held the position of Chairman & CEO of Wagman Companies, Inc. and G.A. & F.C. Wagman, Inc. Rich states, "After spending 42 years as part of the 3rd generation at Wagman, nothing brings me greater pleasure than to transition to the 4th generation during the year that we are celebrating the company's 110th Anniversary." Rich, now 68 years old, is removing himself from the day-to-day responsibilities but will continue as Chairman of the Board.
Rich adds, "My brother Joe, Vice Chairman of Wagman Companies, Inc. and CEO of Wagman Construction, Inc. and I, along with our outside Board members and senior leadership have placed our faith and confidence in Mike."
According to The Family Business Institute, "Only about 30% of family and businesses survive into the second generation, 12% are still viable into the third generation, and only about 3% of all family businesses operate into the fourth generation or beyond." http://www.familybusinessinstitute.com/index.php/Succession-Planning/
Mike Glezer joined the family business along with his wife, Lisa Wagman Glezer, Rich's daughter, over 11 years ago. Mike has been President & COO of Wagman Companies, Inc., the holding and management company for G.A. & F.C. Wagman, Inc. and Wagman Construction, Inc., for five years.
Managing Human Resources, Accounting, Finance & Treasury, Legal, Information Technology/Systems, and working closely with operations, he established a solid team equipped with resources and technology which allowed Wagman to experience record growth, expand services and open offices in other states over the past decade.
Mike comments, "An integral part of Rich's success is his character and the culture he instilled in the fourth generation and perpetuates throughout the organization. I am grateful for the opportunities, the mentoring and the guidance Rich has provided. I am also proud to represent the fourth generation of leadership and commit to sustaining the legacy and culture based on the vision, mission and core values set forth by previous generations."
Mike received his Bachelors of Science degree from University of Delaware and Executive Masters in Business and Administration from Loyola University in Baltimore, Maryland. Prior to joining the family business, he worked as a field engineer at Earth Tech in Concord, MA and a Business & IT Consultant at Computer Sciences Corporation in Waltham, MA.
Joe Wagman continues as Vice Chairman of Wagman Companies, Inc. and CEO of Wagman Construction, Inc. Lisa Wagman Glezer is Director of Communications, managing public relations, marketing and government relations for Wagman Companies, Inc. and G.A. & F.C. Wagman, Inc.
About Wagman
Wagman was founded in 1902 and continues on today as a fourth generation, family-owned general contracting business headquartered in York, PA. G.A. & F.C. Wagman, Inc. is a heavy civil contractor specializing in transportation infrastructure and has grown to become a nationally recognized leader within the industry operating out of offices in Pennsylvania, Virginia and North Carolina. Wagman's core competencies include: design-build, bridges, structures, highways, excavation, drainage, marine construction, modified concrete and geotechnical construction services. Wagman Construction, Inc. is a full service general contractor located in downtown York, PA, serving senior care, office, urban, institutional, medical and industrial markets in central Pennsylvania, Virginia & Maryland.
For more information about Wagman, please visit www.wagman.com.