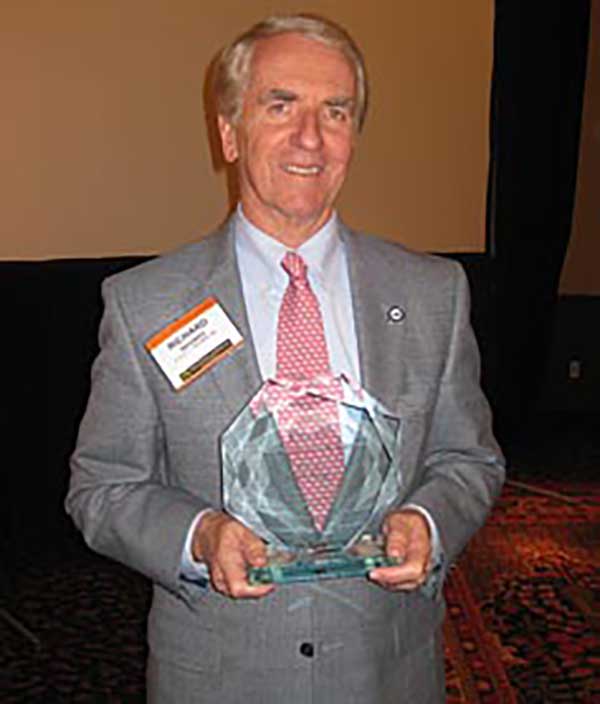 (York, PA) Rich Wagman, Chairman & CEO of G.A. & F.C. Wagman, Inc. received the "Transportation Advocate of the Year Award" from the Pennsylvania Highway Information Association (PHIA) for his exemplary lifelong leadership in the highway construction industry. The award was presented during PHIA's 50th Anniversary Conference and Awards Luncheon.
Rich has served on the national level in various leadership positions including Chairman of Transportation Information Program (TRIP) and Chairman of American Road and Transportation Builders Association (ARTBA) after working his way up the ranks in various leadership positions. Rich has testified on behalf of the transportation industry before the United States Senate. Regionally, Rich serves on the board of Associated Pennsylvania Constructors (APC) and Maryland Highway Contractors Association (MHCA). He is also past president of both organizations.
Rich has incorporated his philosophy into G.A. & F.C. Wagman's culture too. Wagman has created an award winning grassroots program, which provides resources to employees and families, hosts Meet & Greets with elected officials and communicates transportation initiatives. He also welcomes employees to join him on legislative visits to Harrisburg and Washington. Rich has devoted his career to promoting good, safe roads and is ensuring the next generation at Wagman will do the same.
About the Award:
Transportation Advocate of the Year Award – To recognize individuals who have made a major contribution in support of PHIA's mission to: "…educate the public on the importance and value of a modern and safe highway system, adequately financed through dedicated funding sources, to provide for the economic growth of the Commonwealth and its citizens." For more information, visit http://pahighwayinfo.org/awards/advocate-of-the-year
Wagman, founded in 1902, is a fourth generation, private family-owned general contracting business headquartered in York, PA. G.A. & F.C. Wagman, Inc. is a heavy civil contractor specializing in transportation infrastructure. Wagman's services include: design-build, bridges, structures, highways, excavation, drainage, modified concrete and foundations.