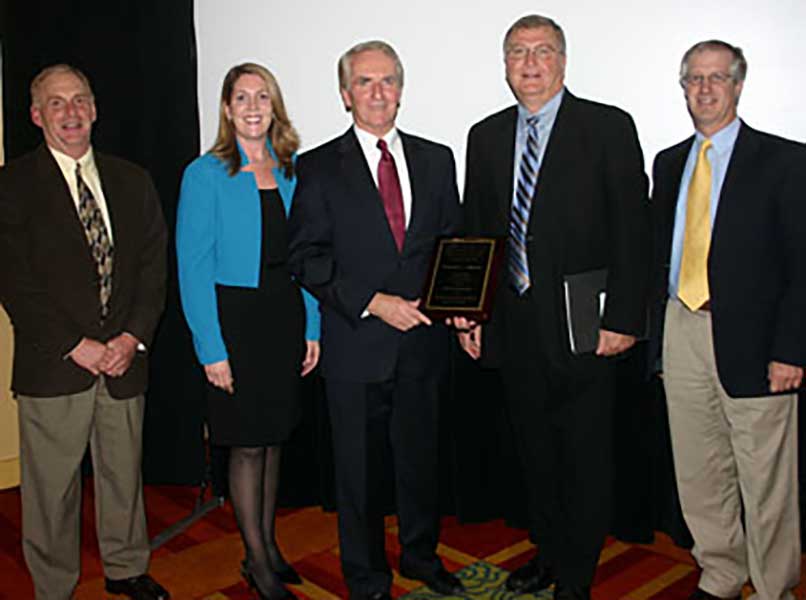 (York, PA) The Maryland Transportation Builders and Materials Association held their Annual Awards dinner on November 4th to honor current and past leaders.
Over one hundred and fifty contractors, aggregate producers, suppliers, family and Maryland Department of Transportation leaders came to honor those who have and are continuing to provide dedication and leadership at both the state and national level of their industries.
Richard E. Wagman, Chairman & CEO of G.A. & F.C. Wagman, Inc., was the recipient of the 2010 Hall of Leadership Award. Mr. Wagman was honored for his leadership in the transportation construction industry over the past forty years. He also has had the unique experience of serving as Chairman of MTBMA (formerly MHCA – Maryland Highway Contractors Association) and the American Road and Transportation Builders Association (the national association). He has served on numerous industry and civic Boards as well over his career.
For more information about Maryland Transportation Builders & Materials Association (MTBMA), please visit. http://www.mtbma.org/
G.A. & F.C. Wagman, Inc. was founded in 1902 and continues on today as a fourth generation, private family-owned general contracting business headquartered in York, PA. G.A. & F.C. Wagman, Inc. is a heavy civil contractor specializing in transportation infrastructure and has grown to become a nationally recognized leader within the industry. Wagman's core competencies include: design-build, bridges, structures, highways excavation, drainage, modified concrete and foundations. For more information about Wagman, please visit www.wagman.com.