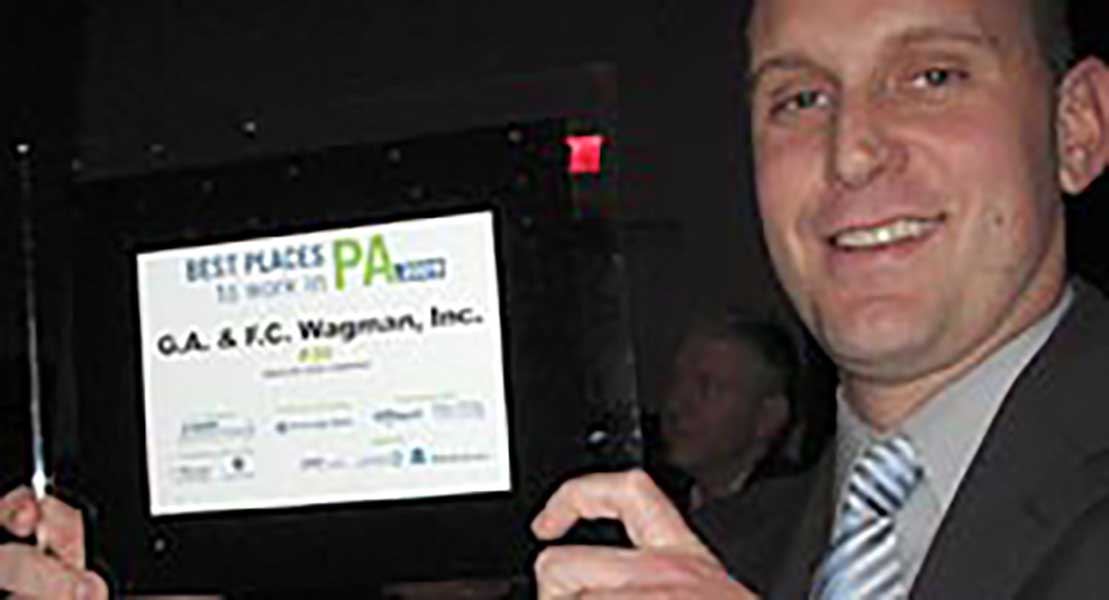 (York, PA) G.A. & F.C. Wagman, Inc. was named among the Best Places to Work in PA in the medium-sized company category for 2009. Eight Wagman employees attended the Best Places to Work dinner event on December 1st to celebrate. G.A. & F.C. Wagman, Inc. was ranked #30 of the top 50 Best Places to Work in PA in their category. This is the fifth time in which G.A. & F.C. Wagman, Inc. made the list.
Rich Wagman, Chairman and CEO of G.A. & F.C. Wagman adds, "We are continuously making changes to be the employer of choice as we grow our organization with talented individuals. We are excited to celebrate this accomplishment with our employees who voted us one of the Best Places to work in PA."
Why was Wagman named among the Best Places to Work in PA?
Wagman provides many ways to keep employees involved and informed as well as offering opportunities for development. In 2009, Wagman partnered with Penn State York to create Wagman Institute for Professional Development to provide additional resources and training opportunities for Wagman employees. In addition, Wagman has an award winning safety program to keep employees safe on the jobsites. Wagman works to keep employees happy and healthy in other ways too. Wagman instituted a Wellness program for all employees, offers an on-site fitness center with locker rooms, and recognizes employees for service, safety and outstanding performance. Picnic lunches, project dinners and employee nights at the local baseball stadium are some of the ways Wagman is celebrating milestones with employees.
Wagman communicates company information with employees with various newsletters and bi-monthly employee meetings. In addition, Wagman's Grassroots Committee promotes awareness of local and industry issues, encourages involvement and welcomes all employees to "Meet & Greets" for employees to meet with their elected officials.
Wagman, founded in 1902, is a fourth generation, private family-owned general contracting business headquartered in York, PA. G.A. & F.C. Wagman, Inc. provides a range of services for roads, bridges and structures with their heavy highway, piling and concrete operations.