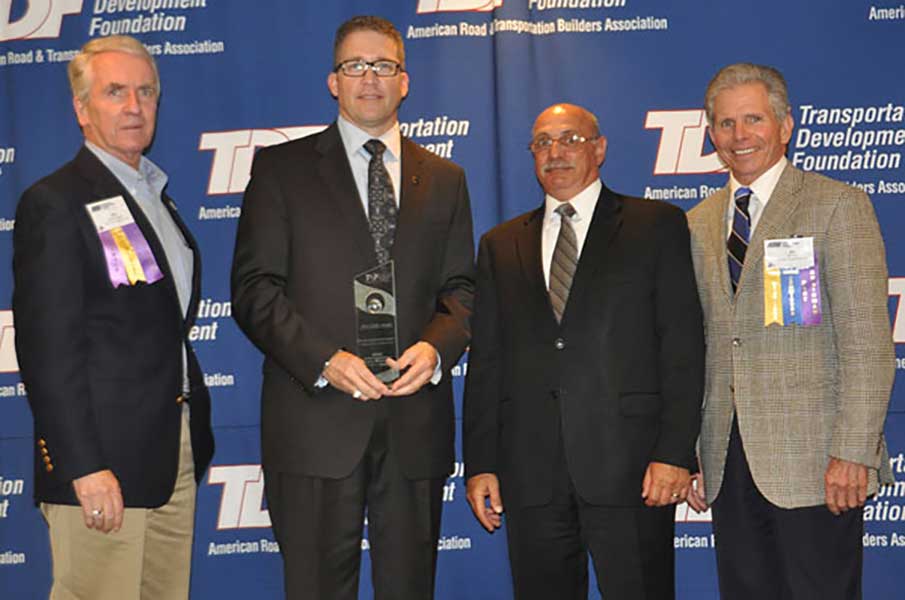 (York, PA) The Intercounty Connector Contract B (ICC-B) project in Maryland was recently awarded the American Road & Transportation Builders Association (ARTBA) – Transportation Development Foundations 2012 Globe Award. The project was awarded due to steadfast commitment of all parties involved to environmental stewardship and the successful completion of an extraordinary project which crosses the Northwest Branch and Upper Paint Branch Watersheds and the Upper Paint Branch Special Protection Area of the Chesapeake Bay. This is the most restrictive and environmentally sensitive of the five ICC contracts awarded by the Maryland State Highway Administration (MSHA).
MSHA established stringent regulations and environmental standards as a top priority. The seven mile project was constructed by MD200 Constructors, a joint venture between general contractors Kiewit, Corman Construction and G.A. & F.C. Wagman, Inc. with Parsons Transportation Group as the Designer. Special considerations and efforts were given to minimize impacts. Environmental designs included considerations for wetlands, streams, fish passage, vernal pools, reforestation and plans for field training. Support of excavation and drilled shafts were used to minimize impacts in sensitive floodplains. Specially trained dogs flushed out Easter Box Turtles so they could be safely relocated. Culverts were designed for fish, small mammal and amphibian passage. Stream restoration and stormwater management were designed and constructed to minimize thermal impacts.
About G.A. & F.C. Wagman, Inc.
Celebrating their 110th anniversary, G.A. & F.C. Wagman, Inc. was founded in 1902 and continues on today as a fourth generation, family-owned general contracting business headquartered in York, PA. With offices in Pennsylvania, North Carolina and Virginia, G.A. & F.C. Wagman, Inc. is a heavy civil contractor specializing in transportation infrastructure and has grown to become a nationally recognized leader within the industry. Wagman's core competencies include: design-build, bridges, marine construction, structures, highways, excavation, drainage, modified concrete and geotechnical construction services. For more information about Wagman, please visit www.wagman.com.