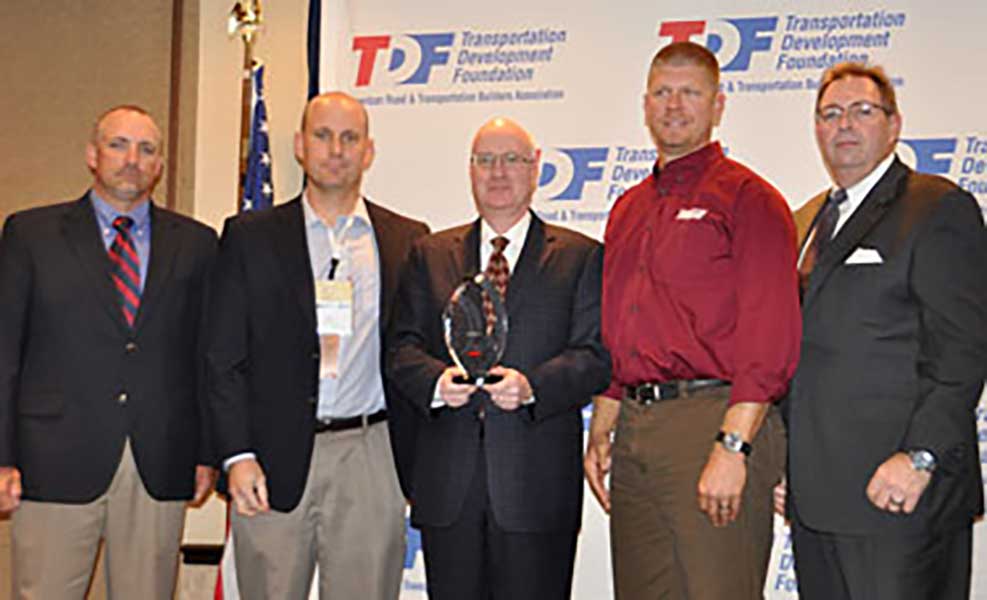 (York, PA) G.A. & F.C. Wagman, Inc. received a national safety award for their outstanding worker safety programs during the 2010 American Road & Transportation Builders Association (ARTBA) National Convention in held in New York City. Wagman was among the top honorees of the ARTBA-Transportation Development Foundation/CNA "Contractor Safety Awards."
CNA, a leading national insurance firm, and the ARTBA Foundation, developed the program to promote worker safety and health as core values of the transportation design and construction industry. Award winners demonstrated a low "OSHA Recordable Rate" as measured against benchmark metrics established by the Bureau of Labor Statistics. Eight finalists were selected based on their achievements as evidenced by recordable rates below the industry average.
Representatives from finalist companies were invited to make a presentation before a panel of industry professionals who judged programs based on corporate safety culture, operational safety plans and worker training programs. Mike Glezer & Mike Pickeral co-presented Wagman's presentation "Sustaining a Culture of Safety In Construction".
Awards were presented in three categories, based on the number of employee hours worked during the previous year: 1,000,001 or more; 500,001-1,000,000; and 500,000 or fewer. G.A. & F.C. Wagman, Inc. won the 500,001 – 1,000,000 category.
G.A. & F.C. Wagman, Inc. was founded in 1902 and continues on today as a fourth generation, private family-owned general contracting business headquartered in York, PA. G.A. & F.C. Wagman, Inc. is a heavy civil contractor specializing in transportation infrastructure and has grown to become a nationally recognized leader within the industry. Wagman's core competencies include: design-build, bridges, structures, highways excavation, drainage, modified concrete and foundations. For more information about Wagman, please visit www.wagman.com.