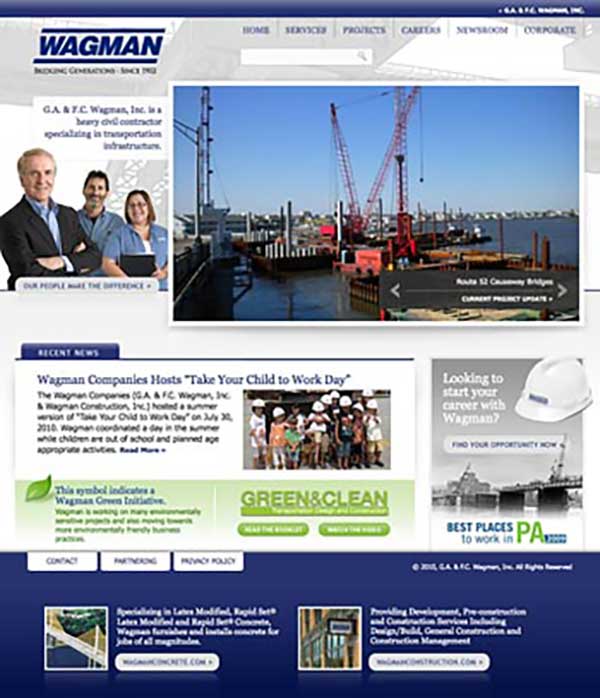 (York, PA) G.A. & F.C. Wagman, Inc. announces new website and tagline. Wagman created a new website which better represents the company's range of services and qualifications. G.A. & F.C. Wagman's new website features expanded content and photos showcasing its experience, while also emphasizing their people. In addition to the expanded content, Wagman implemented E-recruit, recruiting software to facilitate the job application process electronically in English & Spanish.
Lisa Wagman Glezer, Marketing & Public Relations Manager explains, "The majority of our volume is with mega-projects, and there is an increased importance to showcase our talents to owners and joint venture partners. These $300+ million megaprojects are awesome to watch and the expanded photos on our website better represents the scope of these projects. Our other target audience is people/prospective employees. We have experienced significant growth and want to continue to attract talented people to join our team". Visit our website at https://www.wagman.com/
G. A. & F.C. Wagman, Inc. also recently rolled out a new tagline "Bridging Generations • Since 1902". The new tagline represents some of the qualities that set Wagman apart. Aside from building bridges for over 100 years, the company has successfully transitioned through four generations of family members. In addition, Wagman proudly employs generations of family members within Wagman. There are other families with 2, 3, 4 family members working at Wagman. Learn more about Wagman's new tagline at: https://www.wagman.com/gafc/corporate/generations.asp
Wagman, founded in 1902, is a fourth generation, private family-owned general contracting business headquartered in York, PA. G.A. & F.C. Wagman, Inc. is a heavy civil contractor specializing in transportation infrastructure. Wagman's services include: design-build, bridges, structures, highways, excavation, drainage, modified concrete and foundations. For more information about Wagman, please visit www.wagman.com.