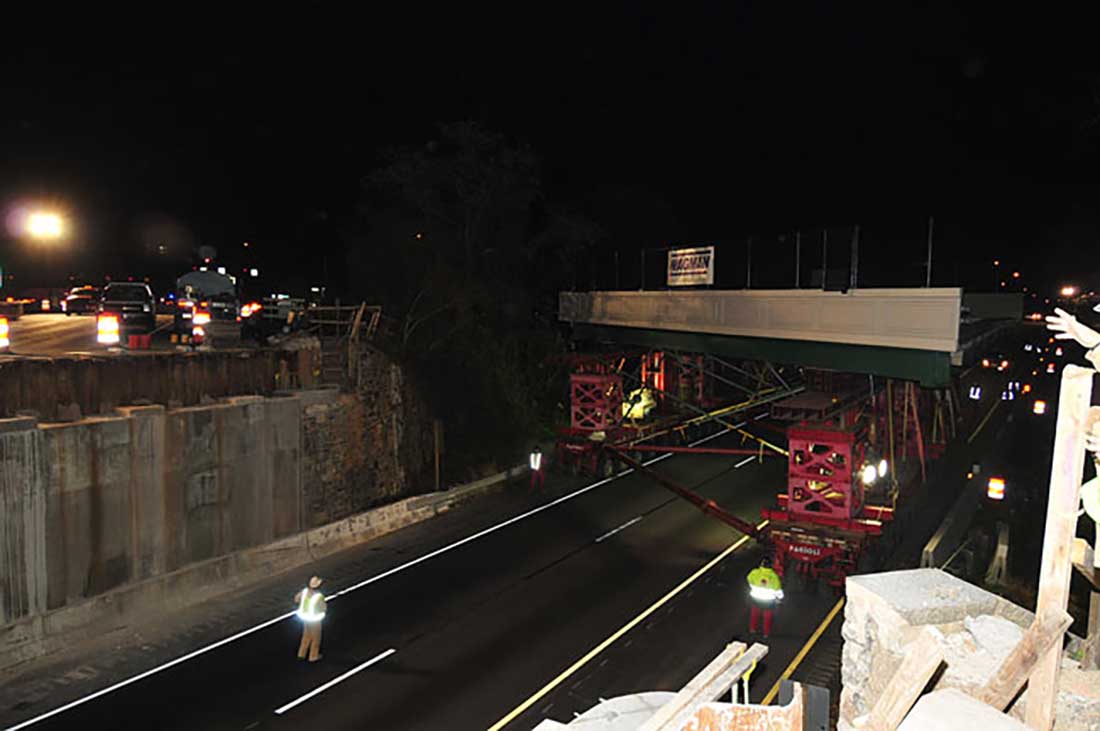 (York, PA) G.A. & F.C. Wagman, Inc. served as general contractor in the first "Bridge on Wheels" project in Maryland.
G.A. & F.C. Wagman, Inc. was awarded the $4.6 million project in January 2012 from the Maryland State Highway Association (MD SHA) and construction started in May 2012. The contract included the construction of two replacement bridges on the MD 295 median and a coordinated bridge move to remove the old structures along West Nursery Road over MD 295 and replace with the two new bridge decks.
The old bridges weighed about 300 tons each and were constructed in 1948 without shoulders or bicycle lanes. The new bridges were constructed in three months, are approximately 70 feet long and weigh about 500 tons each. The new bridges have 5 feet wide bicycle compatible shoulders.
A SPMT (Self Propelled Modular Transporter) system consisting of 144 wheels and 36 axles was assembled on site and used to move the old bridges out during Friday night closures and put the new bridges in place during Saturday night closures.
The bridge replacement over northbound MD 295 on November 2nd and 3rd marked the first use of SPMTs in Maryland for a large structure replacement. As stated in a MD SHA release, "Not only was this an historical first for Maryland, it proved to be an incredibly efficient operation," noted SHA Administrator Melinda B. Peters. "The new bridge was removed from the construction staging area, rolled down MD 295 and secured in place in under three hours. Within eight hours we had all roads reopened to traffic. This was a tremendous testament to our engineers and contractors who overcame several early obstacles in demonstrating the promise this bridge replacement technology can hold for Maryland."
According to Lisa Wagman Glezer, Director of Communications at Wagman, "This was a complicated project that could not have happened without the commitments and teaming approach embraced by everyone at Wagman and the Maryland State Highway Administration. We have great respect for the progressive approach of MD SHA to utilize this technology to reduce traffic impacts along this heavily travelled and highly developed corridor. We were a proud partner in this project, which required stellar engineering and a commitment to safety."
SPMT technology has been used in Europe, Asia and Canada and is gaining interest in the United States. One of the primary benefits of utilizing this technology is the decreased amount of road closures and detours which occur during bridge replacement projects using traditional methods. After bridges are replaced, traffic patterns can be resumed within hours.
Maryland State Highway Administration chose to champion this delivery system to reduce the closures on the heavily travelled corridors surrounding Baltimore Washington International Airport (BWI). While this project involved overnight closures over 2 weekends, traditional construction methods would have involved prolonged road closures and construction for over 6 months.
To learn more about SPMT technology and benefits please visit:
http://www.fhwa.dot.gov/bridge/abc/spmts.cfm and
http://www.fhwa.dot.gov/bridge/abc/spmtbenefits.cfm
About Wagman
G.A. & F.C. Wagman, Inc. was founded in 1902 and continues on today as a fourth generation, private family-owned general contracting business headquartered in York, PA. With offices in Pennsylvania and Virginia, G.A. & F.C. Wagman, Inc. is a heavy civil contractor specializing in transportation infrastructure and has grown to become a nationally recognized leader within the industry. Wagman's core competencies include: design-build, bridges, marine construction, structures, highways, excavation, drainage, modified concrete and geotechnical construction services. For more information about Wagman, please visit www.wagman.com.